design your own pelmet
Time
We aim to deliver your pelmets as soon as we can. Each pelmet is custom made to your specifications yours should be delivered by 12 working days.(1)
Each pelmet is sturdily packaged for delivery to you. Obviously pelmets aren't going to go through your letterbox so you will need to have to have someone available to take delivery. All postage methods require a signature upon delivery.
Cost
Delivery is calculated according to your postcode and the size and weight of the items ordered. The delivery company we use charge extra for the Highlands and Islands for example. The zones are approximately shown on image on the right.
There is a surcharge on delivery of pelmets over 2400mm long this will calculated when you enter your postcode.
Areas covered
Currently we can only deliver to UK and Ireland. If you want items delivered to somewhere outside of the UK and Ireland give us a call on the number below. We may be able to arrange delivery outside of our normal carriers.

We do deliver to Jersey and Guernsey but the shipping is quite steep because thats what our shippers charge us. Unfortunately we don't have a lot of choice in our shippers because our parcels are quite large.
If you live in a remote area and know better shippers who can carry from us in Norfolk to where you are please tell us.
Overseas territories and British Forces
Sorry we can't deliver to these areas. Our items are so big the costs are prohibitive, if you live in an overseas territory, you can contact us but even if we get a quote for you it is very likely to exceed the cost of your pelmets.

(1) There may be some exceptions if you want to have your pelmet covered in your own fabric, as it may take some time for your fabric to arrive and to arrange supply.
Example Packaging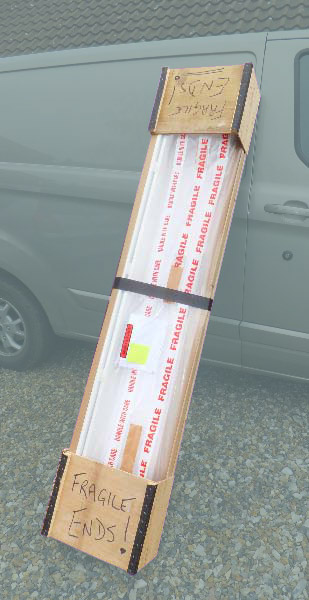 design your own pelmet